Our Breeds of Chicks
Posted: February 22, 2017
Our next shipments of chicks will be arriving on March 10th and 24th. Ducks will be arriving on April 20th. We will be getting many different breeds. Here is a short description of each:
CHICKS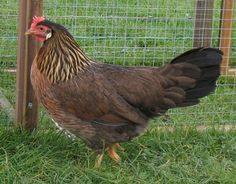 BROWN LEGHORN
The Brown Leghorn is a hardy, non-sitter that lays a very nice large/xlarge white egg. Laying an average of 280 eggs per year. The Brown Leghorn is the most colorful of the white egg laying breed.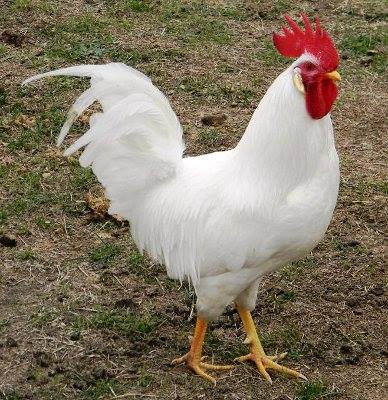 WHITE LEGHORN
White Leghorns are the most popular white egg layer. Their eggs have an excellent shell texture and egg quality. Laying around 300 eggs per year.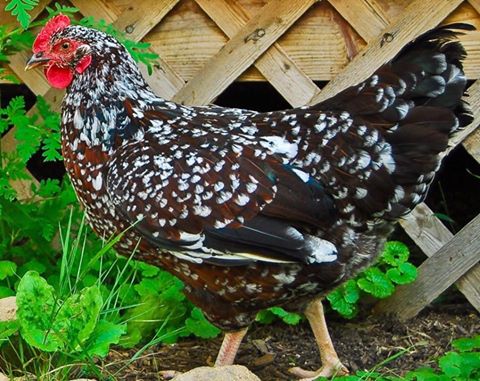 SPECKLED SUSSEX
The Speckled Sussex is a hearty bird weighing 7-8 pounds and does well in cold weather. They lay cream to light brown eggs. Averaging 250 eggs a year.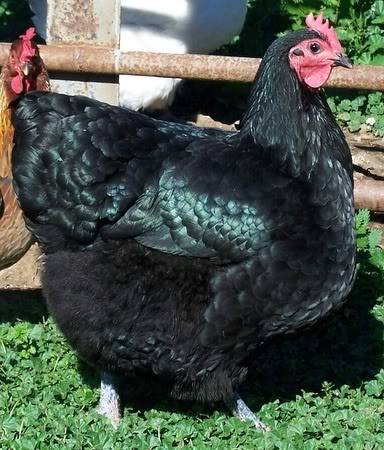 BLACK AUSTRALORP
The Black Australorp has a glossy, black plumage with a greenish-purple sheen. When mature, they will weigh 6.5 to 8 pounds and lay a light brown egg. The Black Australorp is a quiet, gentle bird.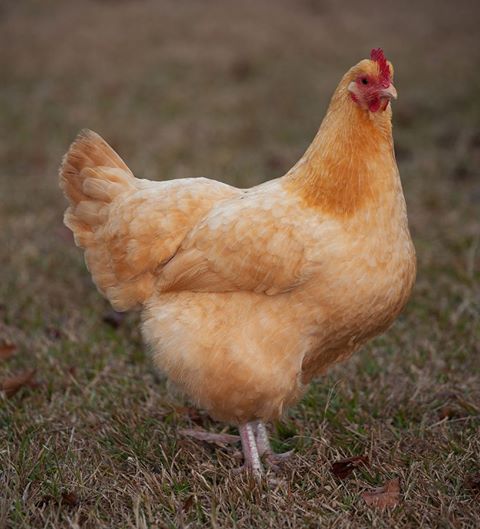 BUFF ORPINGTON
The Buff Orpington lays a rich golden brown egg and weighs around 8 pounds. They are a quiet bird and a good setter. The Buff Orpington is an excellent winter bird due to their heavy build and large plumage.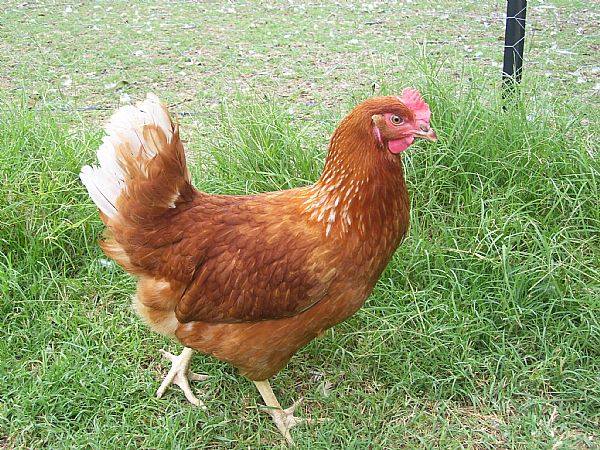 ISA BROWN
The ISA Brown is also know as the Gold Star or the Red Sex Link. This breed is a top seller due to its docile demeanor and their abundant egg laying. Averaging 280 eggs per year. The ISA Brown weighs about 4 pounds and lays a brown egg.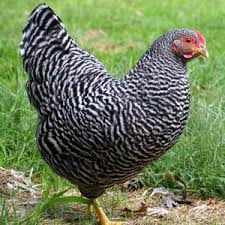 BARRED ROCK
The Barred Rock is a strong winter hardy bird. They lay a medium brown egg and weigh 5 to 5.5 pounds. The Barred Rock averages 280 eggs per year.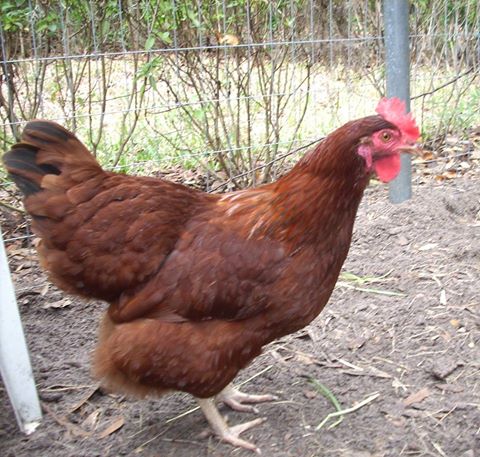 RHODE ISLAND RED
The Rhode Island Red is one of the most famous popular breeds in America. This hen is a lustrous rich dark red with a black tail. They weigh about 6 to 6.5 pounds. The Rhode Island Red lays and average of 260 large brown eggs per year.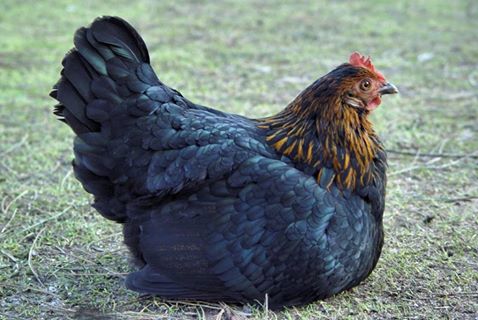 BLACK SEX LINK
The Black Sex Link is a brown egg layer that can average 300 eggs per year. They are egg laying machines. They average between 5-5.5 pounds in weight.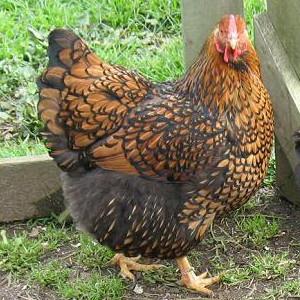 GOLDEN LACE WYANDOTTE
The Golden Lace averages about 200 brown eggs per year and can weigh between 5-8 pounds. The Golden Lace is a cold hardy bird with a beautiful rose comb.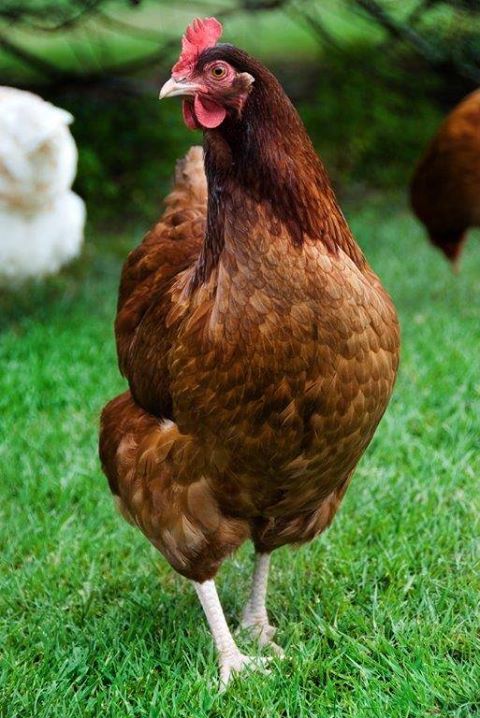 PRODUCTION RED
These brownish-red ladies can lay up to 300 strong shelled eggs per year. They are a vigorous and hardy egg layer that can weigh between 5-5.5 pounds.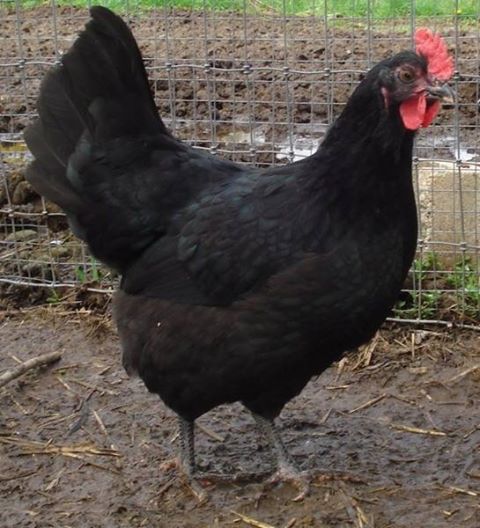 BLACK JERSEY GIANT
Although this is a heavy breed weighing in around 10 pounds they can average 260 brown eggs per year. This beautiful girl has a green sheen to her feathers.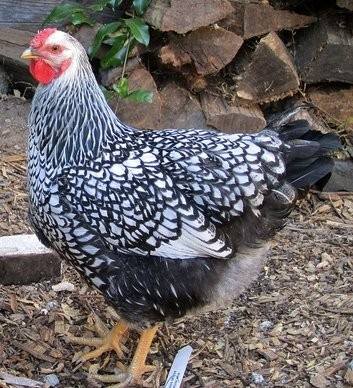 SILVER LACED WYANDOTTE
The black and white hen can lay between 200-240 brown eggs per year. They can weigh up to 6 pounds. This is another cold hardy bird that is also a great setter.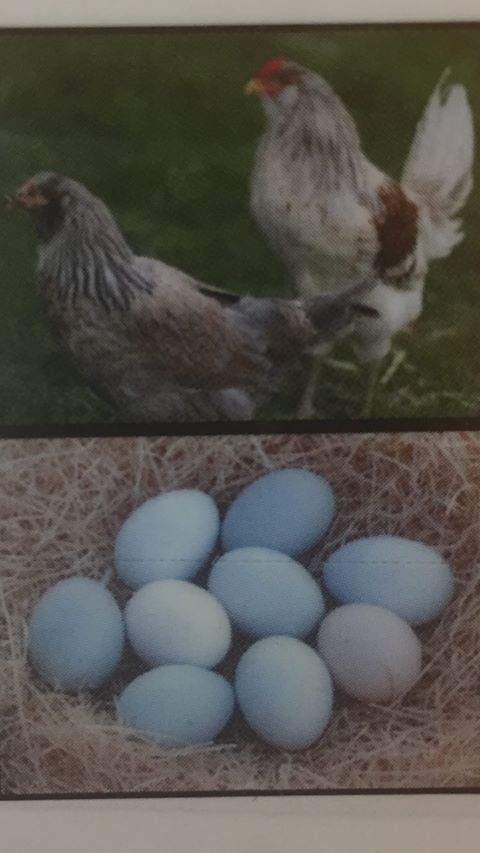 AMERICANA
Chicks are assortment of various color combinations from the Araucana and Americana mix. Because of this genetic combination our birds are not meant for exhibition. They are great birds with egg colors ranging from Turquoise, to olive to light brown. Mature weight is 5.5 lb and they are extremely hardy birds.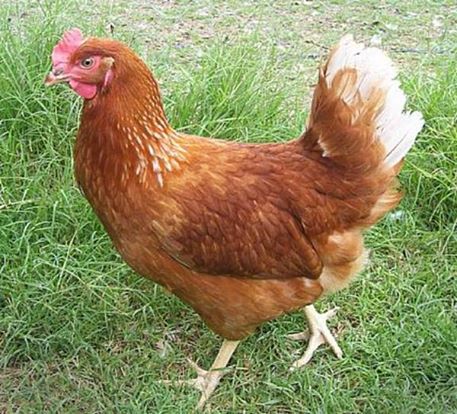 GOLDEN COMET
The Golden Comet is a cross between a Rhode Island Red and a White Leghorn. They are a gold - brown color with white tail feathers. The Golden Comet will weigh about 6 pounds and lay a nice big brown egg. Averaging about 280 eggs a year.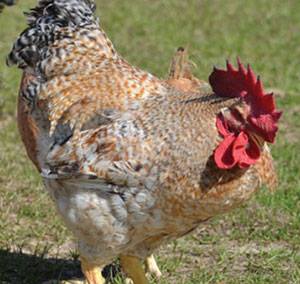 RAINBOW
The Rainbow has a unique feather color pattern. No two birds look alike. They lay a large brown egg. Once mature the Rainbow will lay an average of 290 eggs per year and weigh about 7 pounds.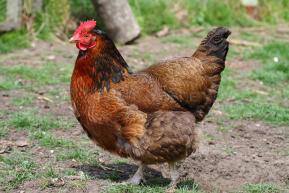 WELSUMMER
The Welsummer is a friendly breed with rustic-red and orange feathers. They will lay about 160 terracotta dark brown eggs with dark speckles per year. A mature Welsummer weighs about 5 pounds.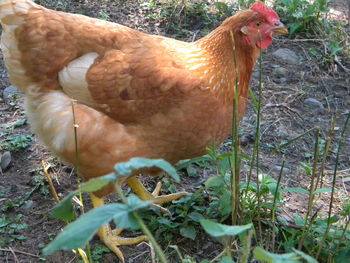 TETRA BROWN
The Tetra Brown chicken is a very docile light brown feathered chicken. The Tetra Brown averages 300 brown eggs a year and will weigh about 4 pounds when mature.
DUCKS
Ducks arrive on April 20th. They come straight run and are not sexed.
Indian Runners
An amazing breed with a strong slender body and an upward stance. Approximate weight female is 3.5 lbs - male 4.5 lbs. Hens are very good egg layers.
Rouen
Larger than a mallard but similar in color. Females 6-7 lbs, males 7-8 lbs.
Pekin
Hatchlings have a bright yellow plumage and will become white. Weight: females 7-8 lbs, males 8-11 lbs. Most popular duck for eating.
Khaki Campbell
Great layers. Mature weight of 4.5 lbs.
TURKEYS
Turkeys arrive in May. They come straight run and are not sexed.
White
Broad breasted white great for eating. Weight at 20 weeks: 23-33 lbs. Mature weight: female 25 lbs., male 45 lbs.
Bronze
Broad breasted turkey. Mature weight: female 22 lbs., male 38 lbs.
GUINEAS
Guineas will arrive in May. They are not sexed.
We get an assortment of pearl, white lavender, and royal purple.
GEESE
Geese are special order. Please call for more information.